Hack admin password windows 10 cmd. How To Gain Administrator Access in Windows without a Password 2019-03-05
hack admin password windows 10 cmd
Tuesday, March 05, 2019 5:47:29 PM
Gilbert
How to Hack Windows Administrator Password
So how can I reset lost password on Windows 10? Remember to remove the bootable media, so the system doesn't reboot back into the Lazesoft environment. Step 3: Replace Utility Manager with Command Prompt 1 After computer boots up, you will see the Windows Setup window. If the administrator is inactive, you must active it. How to Crack Administrator Password Without Software Windows has a safety feature beforehand to reset the forgotten password if you have the need to do so anytime. Following we will illustrate specific steps to do this.
Next
5 Ways to Remove the Administrator Password in Windows 10
Two cases can be considered from here, Microsoft account case and Local Account Case. Steps to Crack Administrator Password Without Software Step 1: Start your computer and enter any wrong password into the input box at the login screen. If you have any issue then you can contact their dedicated support system which is ready to serve you at your earliest convenience. If we are not using the Ease of Access features, there is no haste to change the system files back. It is pretty simple and will definitely help you to bypass Windows login screen.
Next
How to hack the administrator password of my laptop in Windows 10 without any further installation
Note: Replace the d letter with your system drive letter. Using Windows password Mate is very easy to use and you don't need any technical skills to recover your account password. Thanks You have to either turn off fastboot or mount the drives in read write mode. Please retry using the provider associated with the account. Screenshot as follow: Step 5: On Windows login screen, click to open Command Prompt. Step 6: Use Net User command to reset password for administrator account, or other account. This will allow you to change the password of any account.
Next
How to Hack Windows 10 Admin Login Password
When i try to delete it, it says that this user is not a member of local group. Now Shutdown and boot into Windows. However, when I attempt to enter the new password, a password error is reported on the Win 10 login screen. Reset Windows 10 local admin password with net user command 2. Thanks for the help and great guide btw. So you might ask how can I prevent someone from hacking my Windows password? You can login with the new password now.
Next
How to Hack Windows Administrator Password
Also it runs with the privilege of the current user which is executing the file i. Set any password for that account. This tutorial is pointless if you already have privileged access to the machine. Most of us have experienced a situation where in we need to gain access to a computer which is password protected or at times we may forget the administrator password without which it becomes impossible to log in to the computer. Anonymous Hi, Great written article dude! Actually you can still reset Windows 10 forgotten local admin password using command prompt. Instead it just lists some data.
Next
How to break into the Windows admin account from a guest account
If you can log into Windows with an administrator account, you can easily change the passwords of any other account. Now shut down the system and live boot. Checked show all hidden files nothing comes up. Step 6: Log into Windows 10 with local admin account. With a setup disk, you can reset Windows 10 administrator password without software. Don't worry if you have never created a System Image, we won't use this feature to gain administrator access.
Next
[Solved] Reset Windows 10 Password with Command Prompt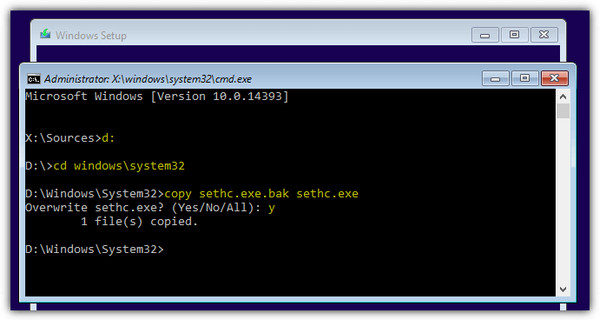 The previous three steps will be invariant. Forgot Windows 10 starter administrator password and want to crack it? Now Exit the Command and Go back on the Desktop screen. If not, others who click on the Ease of Access icon will open the Command Prompt window and change your password or make other changes to your system. You'll be using the installation disc to access the administrator controls to change users' passwords. You can now login as administrator!! Plug in your flash drive and the software will recognize it. Step 4: On Command Prompt Windows, type the following commands and run them. Usually the boot screen will show you what key to press like below.
Next
Hack Sticky Key Feature And Reset Windows Password Using CMD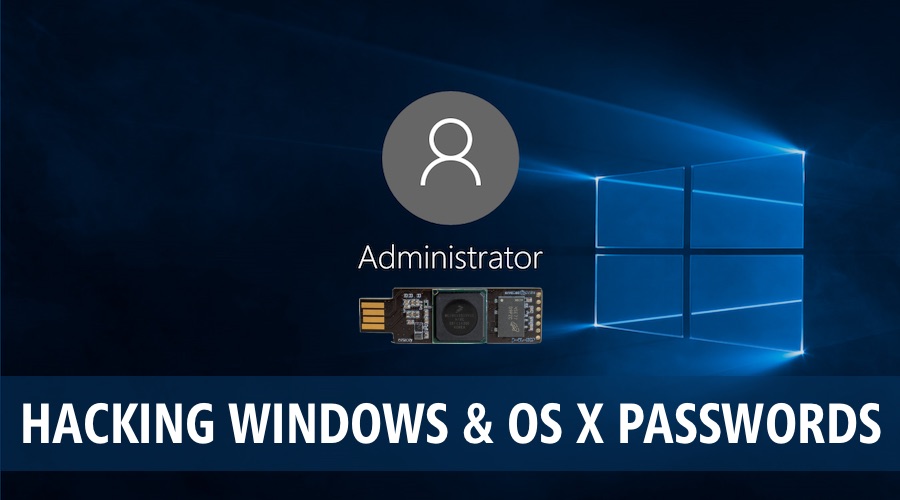 We just type: net localgroup Administrators Remember, we can only gain administrator access to a local account. This guide also can help you reset lost password for local account and Microsoft account. If you left it blank previously, then just press Enter this time also. Case 1: When windows 10 computer is accessible When Windows 10 is accessible with administrative privileges, command prompt can be run easily and reset Windows 10 local admin password. You can log in with the new password now.
Next